publication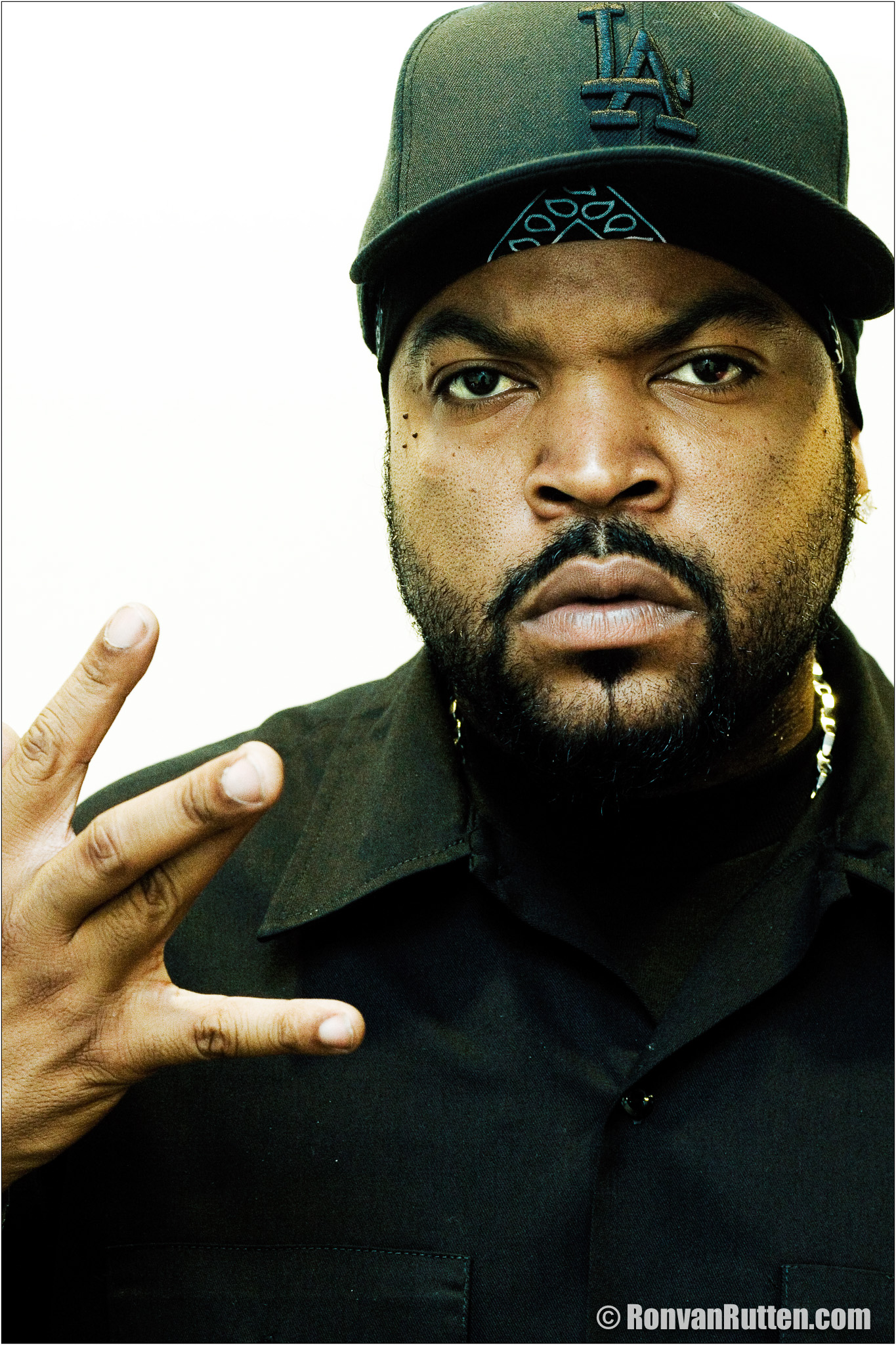 While waiting for the interview to start, we found out that we would have 10 mins to chat with Cube. We were allowed to take photographs, but only in the backstage area and Cube wouldn't leave the room. This pretty much eliminated my original idea of him in a hallway or sitting on the steps of some stairs. My writer tried to get as much info and questions in as he could in those ten minutes so I was getting a bit nervous when the timer hit 8 minutes, and I had the distinct feeling we wouldn't get away overstaying our 10 minute welcome as there was a huge hulking figure (about as tall as he was wide) at the door keeping an eye on a stopwatch.
Thankfully my writer ended his interview at 9m20, giving me a massive 40 seconds to shoot a portrait. The whole interview he was smiling, laughing and all Craig Jones in Friday, but the second he faced the camera, he faced it all tough like Doughboy. Given my chance of an outside shoot was out the window I had spent most of those 10 minutes thinking up how the hell I could make an utterly boring backstage room look, well, not boring, and promptly gave up. I decided I needed to go close and tight, so show as little of the room as I could.
I went for a vertical shot portrait and luckily Cube knows his way in front of the camera so he needed little direction. The only thing I asked was to raise his hand and tilt his chin down a bit. I think I took about 20 shots in as many seconds that pretty much all looked similar to each other and used the remaining seconds to tell him I got the shot (I hoped) and thanked him. At exactly 10 minutes I heard our neighbourhood giant call out "Time's Up" and we were escorted out the room.
A new year, a new publication and a new blog.
Last Sunday a new edition of the "Sex, Drugs and Rock 'n' Roll High School" magazine was launched in Rotown, Rotterdam. SDRNRHS started life in 2007, and a new updated version was needed. The magazine's audience is Dutch musicians. It's published to give an inside look at how the Dutch music industry operates and sounds. It has some fantastic interviews and articles, has a "who's who" and you can find information on what you need to know how to get ahead in the industry.
Three of the articles make use of my work. The first is an interview with the director of the Kroepoekfabriek, Renske Verbeek, on sponsoring for venues and how she did it for her venue. The second set of photos are the 3 bookers; Katja Keersmaekers (Friendly Fire), Mitchell Quitz (Rock 'n' Roll Highschool) and Kim Bloem (Mojo). These three had a long round-table interview/ discussion in the old executive office of a former bank in Delft. They spent a few hours talking about their work as a booker while I shot their portraits. The last article is an interview with manager Cedric Muyres, who manages one of the, if not, the biggest Dutch band at this moment, Kensington.
For more information on the magazine and how to order it, please see their site at http://www.rocknrollhighschool.nl/magazine/